What is the Small Business Admin
The U.S. Small Business Administration (SBA) continues to help small business owners and entrepreneurs pursue the American dream.
The SBA is the only cabinet-level federal agency fully dedicated to small businesses and provides counseling, capital, and contracting expertise as the nation's only go-to resource and voice for small businesses.
What is the SBA OIG
Congress created the SBA inspector general (OIGs) in 1978 (via P.L. 95-452, the Inspector General Act of 1978, or the IG Act) to assist in its oversight of auditing and investigative activities designed to curb waste, fraud, and abuse and promote agency operational and program efficiency in the SBA.
What Does the SBA OIG Investigate
The Small Business Administration SBA OIG is charged with identifying, auditing, and investigating fraud, waste, abuse, embezzlement, and mismanagement of any kind within the Department of xxx and its associated agencies.
The primary role of the SBA Investigations Division is to conduct criminal investigations and refer instances of identified fraud to the Department of Justice for prosecution.
The vast majority of cases that are investigated involve fraudulent statements by borrowers and third parties such as loan agents in obtaining loans through SBA financial assistance programs.
What is the authority of the SBA OIG?
Small Business Administration SBA OIG special agents have been granted Federal law enforcement authority to conduct criminal investigations, civil, and administrative investigations in a nationwide program to prevent and detect illegal and/or improper activities involving SBA programs, operations, and personnel.
OIG special agents utilize a full range of investigative techniques including arrest warrants, search warrants, and electronic monitoring.
The OIG also performs a deterrent function through educational outreach to lenders and employees.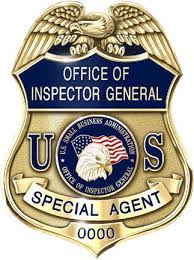 24 hours a day, 7 days a week
How Pink Lady Prison Consultants Help Female Inmates?
If you or someone you know was indicted and going to federal prison for a white-collar crime, our services can help you take advantage and qualify for the RDAP Substance Abuse Rehab Program, the First Step Act, the Second Chance Act or Compassionate Release, all which can drastically shorten the time you remain in Custody.
Each one of our consulting Service Areas are designed to limit clients exposure and ensure that they receive the shortest sentence possible, placement in geographically desirable women's prison camp for visits to maintain family ties, the delaying of fines and restitution, extra halfway house and home confinement, and getting out of federal custody early itself.